Oil & Gas
Magnetics is commonly used in the oil & gas industry to multiple ends, whether it is to detect the presence of resources, help direct a drilling tool to a target reservoir, or assist in the precise positioning of wells in relation to one another.
The range of fluxgate magnetometers available from GMW include extremely low noise sensors for control-source electro-magnetics (CSEM), or high temperature sensors for use in magnetic ranging, or directional drilling.
Active Magnetic Ranging
In order to precisely position wells parallel to one another, intersect two distant wells or avoid wells in densely drilled area, active magnetic ranging, consisting of a magnetic source and a high precision magnetometer is used.
The high temperature and low noise sensors such as Mag610, Mag611 and Mag614 are ideal to measure AC or DC magnetic signals with the highest level of precision, ensuring extremely accurate positioning of the wells.
Pipeline Inspection
For non-piggable pipelines, the use of magnetic tomography or stress induced magnetisation methods allow the user to detect defect by the stress they cause on the pipeline. The resulting magnetisation can be measured using very precise fluxgate sensors.
Low noise Mag-13 and low power sensors, Mag648 and Mag649 will all be suitable, with low power sensors more applicable to portable systems.
Directional Drilling
Steering of the drilling tools uses fluxgate magnetometer packages combined with accelerometers to determine the azimuth and dip of a well. The use of high precision sensors here reduces the directional errors of the drill string, optimizing recovery.
Directional Drilling tool calibration
In order to achieve the best accuracy possible in drilling operations, directional tools need to be regularly calibrated to quantify sensor errors.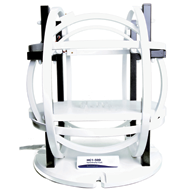 Using a low field Helmholtz coil system (HC1 or HC2) allow the user to generate DC and low frequency fields with an active compensation module reducing the effect of local disturbances on the coil's stability.
Drill string magnetic hygiene
The presence of magnetic hot-spots on the drilling collars located near the directional tools will cause some localised errors. Collars should be inspected regularly to identify traces of magnetisation.
A suitable setup for these checks will include either some Mag-13MS with Spectramag-6 (multiple sensors enabling a faster scan) or handheld units such as the TFM1186 to detect hot spots.
CSEM Hydrocarbon Exploration
In difficult context, magnetics and CSEM in particular is an excellent alternative for exploration work. The use of very low noise sensors for integration in OBEM (Ocean-bottom electro-magnetometer), or low power sensors for longer deployment will help in providing accurate resistivity map of the sedimentary pile.