PEM CMC Common Mode Current Probe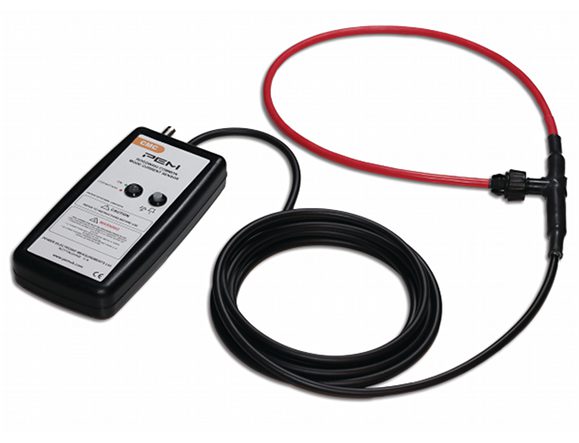 The PEM AC Current Probes utilize a Rogowski Coil and Matched Analog Integrator to provide accurate non-contact, measurement of AC currents over a very broad frequency range. These flexible "clip-around" Current Probes have very low insertion impedance compared to Current Transformers, (CT), or Hall Current Transducers, are easy to insert in confined spaces and are not damaged by over-current surges. They can be used for measuring ac, pulse or transient current waveforms. Since the PEM Current Probes have no magnetic core they can be used to measure ac current on a conductor with high dc current or in the presence of a high dc magnetic field.
CMC Common Mode Current Probe
A clip-around, current probe to measure high frequency common mode currents which flow from a variable speed motor drive to ground via the bearings in AC drive systems. The CMC can also be used for in other applications where high frequency currents need to be measured in a background of low frequency current.
Variable Speed Drives (VSDs) used to control AC motors can produce high PWM voltage on the windings that can capacitively couple to the machine shaft. The voltages can be sufficient to cause arcing currents to flow from the shaft through the motor bearings to ground These arcing currents can be measured using a CMC probe.
Features
Peak Current ratings from 30A to 300kA
Robust, flexible, clip-around coils
Integrator included with Rogowski Coil to provide an analog signal accurately proportional to primary current in amplitude and phase
High voltage isolation and common mode rejection
Measure ac current even in the presence of a high dc current
Not influenced by high dc magnetic fields
Bandwidth from 0.1Hz to 30MHz
No I*t limitation as with CT
Both battery (4xAA) and external DC power supply
CE marked
Special cryogenic versions
Special long coil versions
Applications
Monitoring current waveforms in semiconductor switches
Development, test and servicing of power electronic equipment.
Pulsed Power capacitor discharge and magnetic accelerator current measurements
Welding, motor drive, generator, currents
Ground currents in rotating machine shafts
Induction heating and plasma current measurements
Measuring AC currents in the presence of large DC currents
Fault monitoring, circuit breaker interruption and lightning strike currents
Monitor Battery and Capacitor Ripple Current
Pricing
Product Configurator:
Select product options from drop-down menus to quote standard products not normally in stock. For fully custom products, fill in the message box below.

Order Code for CMC: Type / Battery / Cable Length / Coil Circumference
For example: CMC015/B/2.5/1000

For descriptions of the possible selections, please see the Specifications above.
CMC Common Mode Current Probes
Part No.
Description
Price
In Stock
CMC015/B/4/500

CMC Common Mode Current Probe 200mV/A, 37.5A, 19kHz – 11MHz, Alkalai battery 4xAA, 4m cable length from Coil to Integrator, 500mm coil circumference length, 8.5mm cross section

$

1,170.00
CMC06/B/4/1000

CMC Common Mode Current Probe 50mV/A, 150A, 1.9kHz – 14MHz, Alkalai battery 4xAA, 4m cable length from Coil to Integrator, 1000mm coil circumference length, 8.5mm cross section

$

1,210.00
CMC Accessories
Part No.
Description
Price
In Stock
US13S

CWT UM Regulated Power Supply. 120VAC, 60Hz, 12V ±10%, 300mA, Barrel type: 1.3 x 3.5 x 10mm. Power disconnects battery when plugged into the integrator.

$

40.00

PowerCableYK13

Yokogawa compatible power cord, 0.5m, supports all PEM units fitted with a 1.3mm DC power socket.

$

70.00
Terms and Conditions
Quantity Discount Schedule:
| | | |
| --- | --- | --- |
| Quantity | 1 – 9 | 10 – 24 |
| Discount | 0% | 5% |
Terms and Conditions:
Prices above are for domestic deliveries to Canada, USA and Mexico only.
Prices are expressed in U.S. Dollars, FCA San Carlos, California.
Prices are subject to change without notice.
Higher quantity and OEM discounts are available.
Payment:
Visa, MasterCard, Amex, Prepayment before shipment, or Net 30 days (subject to credit
acceptance).
Delivery:
Items in stock shipped next business day. All other items up to 6 weeks.