Bartington Fluxgate Magnetometer, 3-axis, Space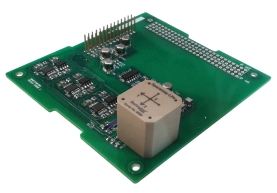 The Spacemag-Lite is ideal for a variety of low Earth orbit (LEO) missions. It has been designed using commercial off the shelf (COTS) components ensuring that costs are kept low. This makes Spacemag-Lite suitable for both commercial and scientific missions, where cost is a consideration.
Features:
Number of axes: Three (right hand XYZ coordinate system)
Full-scale measuring range: ±60µT
Bandwidth at -3dB: >1kHz
Measurement noise floor:: 10 to ≤150pTrms/√Hz at 1Hz
Operating Temperature: -55°C to +65°C TBC
Dimensions: 20 x 20 x 20mm (±0.1mm) Cable length 2m when probe mounted remotely
Typical Applications:
Spacecraft attitude sensing
Geomagnetic field mapping
Spacecraft magnetic signature measurement
Pricing
Spacemag Lite Three Axis Space Magnetometer
Part No.
Description
Price
In Stock
Spacemag-Lite

3-axis magnetic field sensor +/-60uT

$

3,510.00
Terms and Conditions
Terms and Conditions:
Prices above are for domestic deliveries to Canada, USA and Mexico only.
For deliveries in all other countries please contact Bartington.
Prices are expressed in U.S. Dollars, FCA San Carlos, California.
Prices are subject to change without notice.
Quantity and OEM discounts are available.
Payment:
Visa, MasterCard, Amex, Prepayment before shipment, or Net 30 days (subject to credit acceptance).
Delivery:
Stock to 90 days.